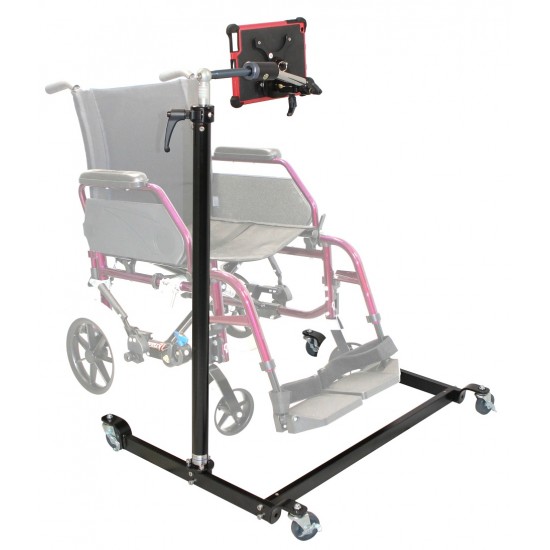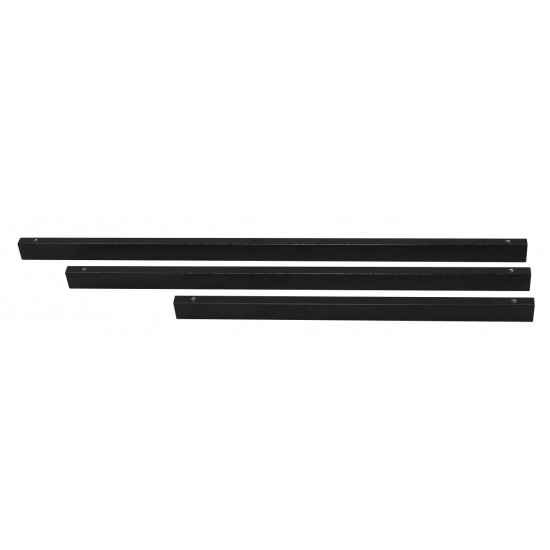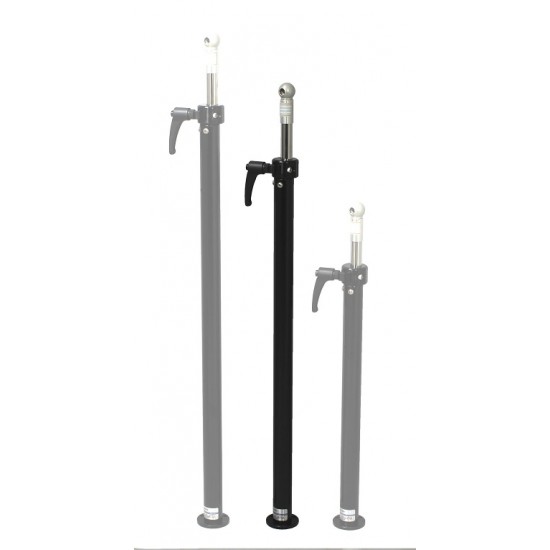 Articulating Rolling Mount
Floor-Standing Mount with articulating arm. The AROM is available with a choice of Quick Release Base and can be supplied in various width and height combinations. The articulating arm provides enhanced device positioning.

Width Options
32"

Crossbar: The

default

size, suitable for most wheelchairs.

36"

Crossbar: A wider option if required to fit around a wider chair.

24"

Crossbar: A narrow option if required for smaller childrens chairs. Not recommended with Tall height option.
Height Options
Short

Upright Post: May be more suited for children in smaller chairs. 28" - 45" height adjustment (71cm - 114cm).

Medium

Upright Post: Covers most of the height range. 34" - 54" height adjustment (85cm - 135cm).

Tall

Upright Post: Suitable for most wheelchairs and where extra height is needed. 38" - 58" height adjustment (97cm - 147cm).
Take-Apart Adaptors
Rolling Mounts are available with optional take-apart adaptors to help assemble or disassemble the mount:
None

: Assembly with bolts and allen key.

Removable Post

: Upright post with quick attachment adaptor, Base assembly with bolts and allen key.

Full Take-Apart Ki

t: Adaptors to quickly attach the Upright post and assemble the Base.

Overview
Useful for assessing users with different devices.

A solution for AAC Devices and Laptops where it is not possible or safe to attach a mount to a wheelchair.

Can be used as an over bed mount.

The Offset base has the cross-member positioned at the front of the frame, enabling wheelchair users to get close to the mount and access a device.

Low-profile base with 2" locking casters roll under furniture with 3.5" clearance.

Several width and height options.


Available with choice of Quick Release Base to customer preference. AQR included in the base price.
Product Overview
Product Type
Floor Stand
Product Details
Max Weight Support
8kg
Height Adjustment
Yes
Device Support
Eyegaze Devices 4.1 - 7.0 kg
Yes
Eyegaze Devices 2.5 - 4.0 kg
Yes
Eyegaze Devices up to 2.5 kg
Yes
Direct Access Devices 4.1 - 7.0 kg
Yes
Direct Access Devices 2.1 - 4.0 kg
Yes
Tablets / Small Devices 1.6 - 2.0 kg
Yes
Tablets / Small Devices 1.0 - 1.5 kg
Yes
Tablets / Small Devices up to 1.0 kg
Yes
Wireless Switch Access Devices 4.1 - 7.0 kg
Yes
Wireless Switch Access Devices 2.1 - 4.0 kg
Yes
Stock:

In Stock

Model:

AROM

Daessy