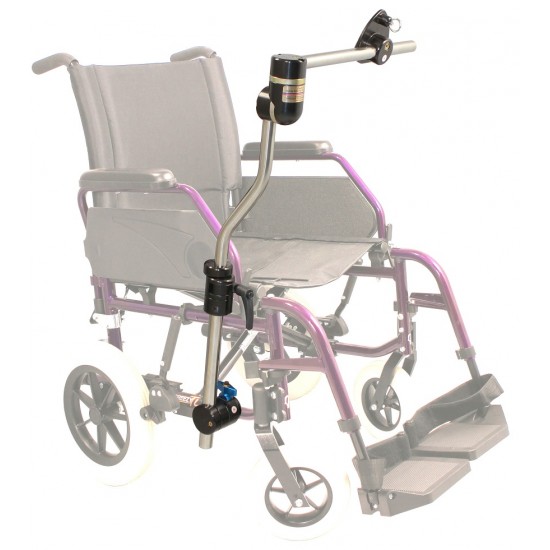 Not for Online Purchase
Height Adjustable Side Folding Mount
A height-adjustable version of the Side-Folding Mount. The telescoping tube is locked into place with an easy to use handle and can be set at the precise height required, making it particularly suitable where the height of the mount may need frequent adjustment. It is quick and easy to fold down to the side of a wheelchair and remove when required, with the compact size when folded making transportation and storage easier. Featuring the Daessy locking clamp assembly, allowing the mount to be 'locked' into the frame clamp assembly so that it is held securely in position and cannot be accidentally removed. This makes it suitable for use on the seat frames of chairs with a tilt-in space function or where the user makes uncontrolled movements that might dislodge a mount with the original clamp assembly.
Overview
Height Adjustment by handle.

Folds from in front of the user down to the side of the wheelchair.

Especially suitable for Classroom and Rise and Fall wheelchairs.

Fits either side of the wheelchair.

Fully adjustable, allows precise positioning of a device.

Quickly removable.

Suitable for devices up to 8kg.
Components*
1x Frame Clamp Inner Piece (To fit specific wheelchair; UF1000IPwith sleeves to fit 7/8" round frame as standard)

1x Offset Link (O3L)

1x Height Adjustable Removable Outer Adaptor / Locking Mechanism (AHOP/RFCR)

1x 1" diameter lower section tube (1STR12 as standard)

1x Height Adjustment Collar AHC1

1x Upright Tube (S24-3 as standard)

1x Height Adjustment Lock (AHLC)

1x Side Folding Mechanism (RTH+2RTHTM)

1x Horizontal Straight Tube (STR16 as standard)

1x Quick Release Base (TUSB as standard)
* Components listed above are for standard configuration. Exact components may differ slightly to meet specific requirements.
Wheelchair Information and Custom Requirements
We ask for details of the Wheelchair the mount is intended to be used with in order to ensure that the supplied Frame Clamp is correct for that chair.
Product Overview
Product Type
Wheelchair mount
Mount Series
Standard Series
Mount Style
Side Folding
Product Details
Max Weight Support
7kg
Height Adjustment
Yes
Frame Clamp Assembly
Lockable
Device Support
Eyegaze Devices 4.1 - 7.0 kg
Yes
Eyegaze Devices 2.5 - 4.0 kg
Yes
Eyegaze Devices up to 2.5 kg
Yes
Direct Access Devices 4.1 - 7.0 kg
Yes
Direct Access Devices 2.1 - 4.0 kg
Yes
Tablets / Small Devices 1.6 - 2.0 kg
Yes
Wired Switch Access Devices 4.1 - 7.0 kg
Yes
Tablets / Small Devices 1.0 - 1.5 kg
Yes
Wired Switch Access Devices 2.1 - 4.0 kg
Yes
Tablets / Small Devices up to 1.0 kg
Yes
Wireless Switch Access Devices 4.1 - 7.0 kg
Yes
Wireless Switch Access Devices 2.1 - 4.0 kg
Yes
Stock:

Not for Online Purchase

Model:

AH/DFM

Daessy