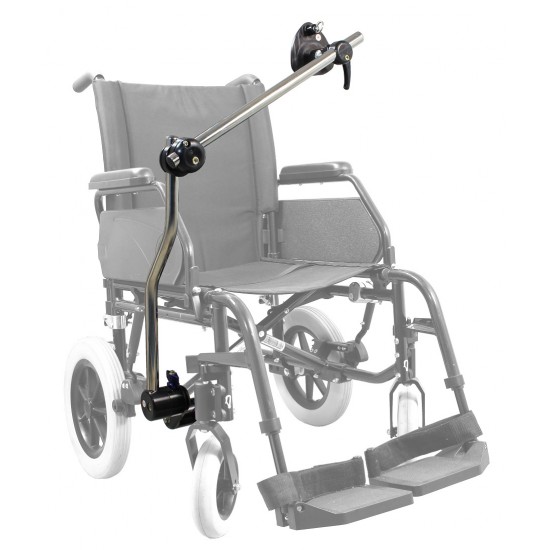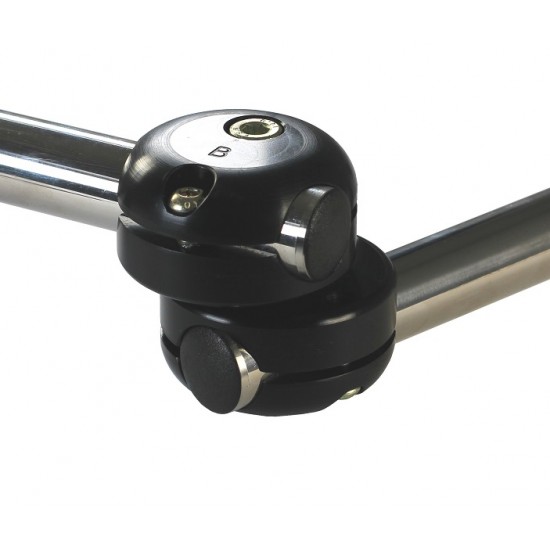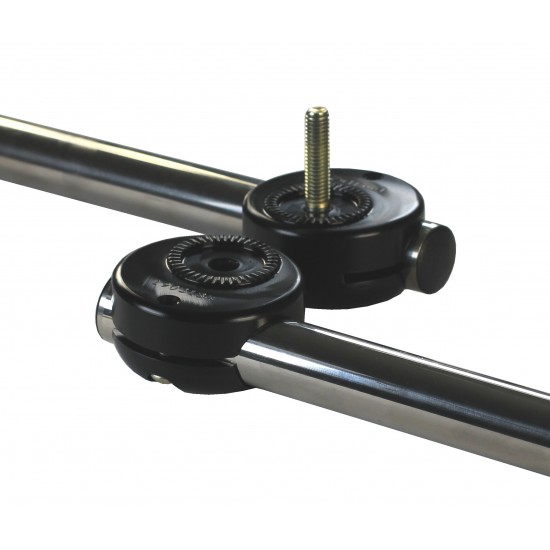 New Not for Online Purchase



2-Length Adjustable Connector Mount
This new mount uses Daessy Adjustable Tube Connectors (ATC87/87), an updated version of Daessy's original adjustable connector). Each tube is secured in the connector with an M6 bolt and the 2 halves of the connector have an indexing face, fastened with an M8 bolt. This means that the mount tubes can be connected in 40 different positions through 360 degrees; when adjusting, the tubes can not slide out of the connector and the connector will not come loose no matter which side of the wheelchair the mount is attached to.
Available in 3 or 2 length setups, the 2 length version has a single adjustable joint with two longer tubes.
Overview
Adjustable joints allow 40 different tube positions through 360 degrees.

Quickly removable.

Suitable for most standard wheelchairs.

Locking clamp assembly makes this

suitable for use with Tilt in Space wheelchairs

and for users with uncontrolled movements, where the lock would prevent accidental removal from the frame clamp.

Fits either side of the wheelchair.

Suitable for devices up to 7kg.

Fits in Medium Mount Carry Bag when joints are loosened.
Components*
1x Offset Link (O3L)

1x Removable Outer Adaptor / Locking Mechanism (ROP/RFCR)

1x Adjustable Tube Connector (ATC87/87)

1x S-Bend Tube (S24-3 as standard)

1x Straight Tube (STR16 as standard)
* Components listed above are for standard configuration. Exact components may differ slightly to meet specific requirements.
Frame Clamp Inner Piece and Quick-Release Base (From Feb 2023)
We no longer include a Frame Clamp Inner Piece or Quick-Release Base in a mount by default. With changes to wheelchairs and other equipment over the years there is now a wide variety and it is no longer appropriate for a 1" round frame clamp and standard TUSB to be a default inclusion.
When ordering a full mount the Frame Clamp Inner Piece and Quick-Release Base are to be ordered separately, with our full range available.


Wheelchair Information and Custom Requirements
We ask for details of the Wheelchair the mount is intended to be used with in order to ensure that the supplied Frame Clamp is correct for that chair.
Product Overview
Product Type
Wheelchair Mount
Mount Series
Standard Series
Mount Style
Adjustable Joints
Product Details
Max Weight Support
7kg
Frame Clamp Assembly
Lockable
Device Support
Eyegaze Devices 4.1 - 7.0 kg
Yes
Eyegaze Devices 2.5 - 4.0 kg
Yes
Eyegaze Devices up to 2.5 kg
Yes
Direct Access Devices 4.1 - 7.0 kg
Yes
Direct Access Devices 2.1 - 4.0 kg
Yes
Tablets / Small Devices 1.6 - 2.0 kg
Yes
Wired Switch Access Devices 4.1 - 7.0 kg
Yes
Tablets / Small Devices 1.0 - 1.5 kg
Yes
Wired Switch Access Devices 2.1 - 4.0 kg
Yes
Tablets / Small Devices up to 1.0 kg
Yes
Wireless Switch Access Devices 4.1 - 7.0 kg
Yes
Wireless Switch Access Devices 2.1 - 4.0 kg
Yes
Stock:

Not for Online Purchase

Model:

DACM-2

Daessy