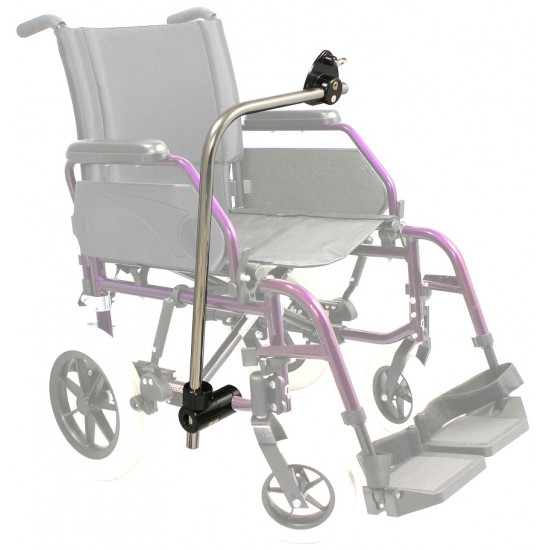 Not for Online Purchase
Bent Pole Rigid Mount
A basic mount consisting of a frame clamp assembly, a right-angled tube and a standard quick-release base.

Overview
A sturdy and cost-effective mounting solution.

Allows the mount to be attached in a secure position on either side of the wheelchair.

Can be repositioned using the indexing locating pin on the UFCOP/IC1, allowing easy access for the user.

Suitable for most standard wheelchairs.

Quickly removed from the wheelchair.

Supplied with Standard Quick-Release Base (TUSB) or Mini Quick-Release Base (MUSB), or no Quick-Release Base if requested.

Right-angled tube available in two sizes: 28" x 18" (standard) or 24" x 16".

Suitable for devices up to 8kg.

The upright tube must not be installed 15 degrees beyond vertical (forwards or backwards).

NOT suitable for tilt-in-space wheelchairs

. If tilted back it is possible for the mount to come loose and swing towards the user.
Components*
1x Right Angled Tube (RT28-18 as standard, RT24-16 is also available)

1x Frame Clamp Inner Piece (To fit specific wheelchair; standard is UFC1000IP with sleeves to fit 7/8" frame)

1x Indexing Frame Clamp Outer Piece (UFCOP)

1x Index Clamp (IC1)

1x Quick Release Base (TUSB as standard)
* Components listed above are for standard configuration. Exact components may differ slightly to meet specific requirements.
Wheelchair Information and Custom Requirements
We ask for details of the Wheelchair the mount is intended to be used with in order to ensure that the supplied Frame Clamp is correct for that chair.
Product Overview
Product Type
Wheelchair Mount
Mount Series
Standard Series
Mount Style
Rigid
Product Details
Max Weight Support
7kg
Frame Clamp Assembly
Basic
Device Support
Direct Access Devices 4.1 - 7.0 kg
Yes
Direct Access Devices 2.1 - 4.0 kg
Yes
Tablets / Small Devices 1.6 - 2.0 kg
Yes
Wired Switch Access Devices 4.1 - 7.0 kg
Yes
Tablets / Small Devices 1.0 - 1.5 kg
Yes
Wired Switch Access Devices 2.1 - 4.0 kg
Yes
Tablets / Small Devices up to 1.0 kg
Yes
Wireless Switch Access Devices 4.1 - 7.0 kg
Yes
Wireless Switch Access Devices 2.1 - 4.0 kg
Yes
Stock:

Not for Online Purchase

Model:

DRMRT

Daessy