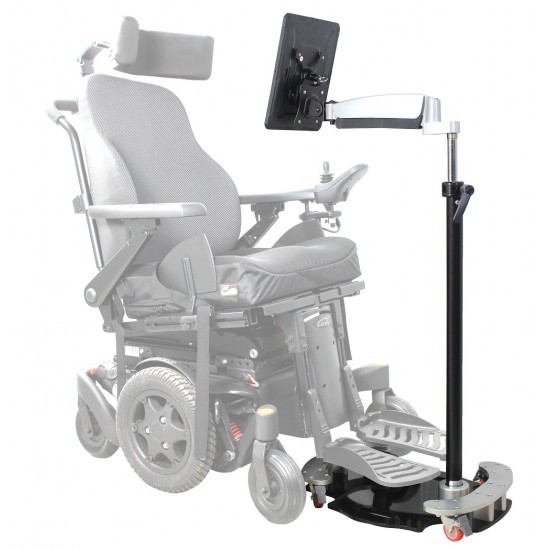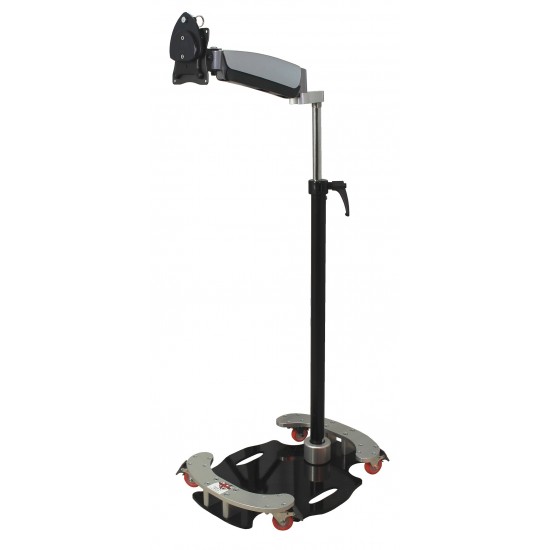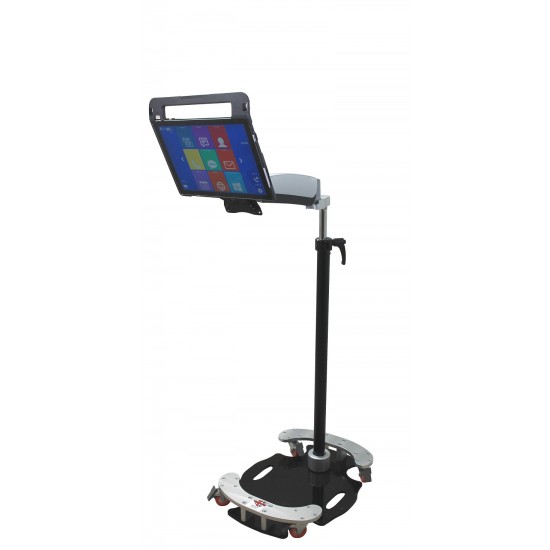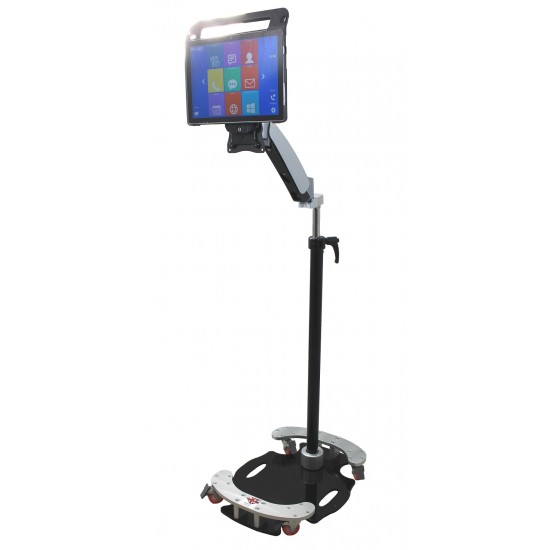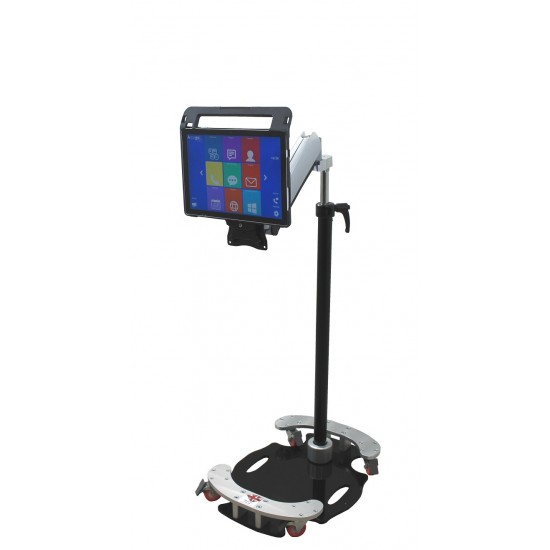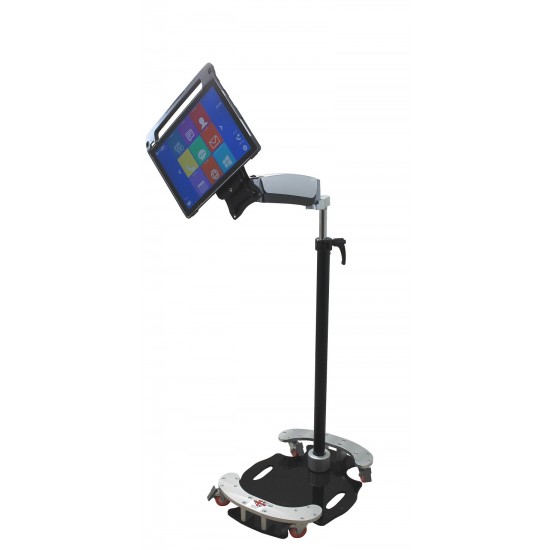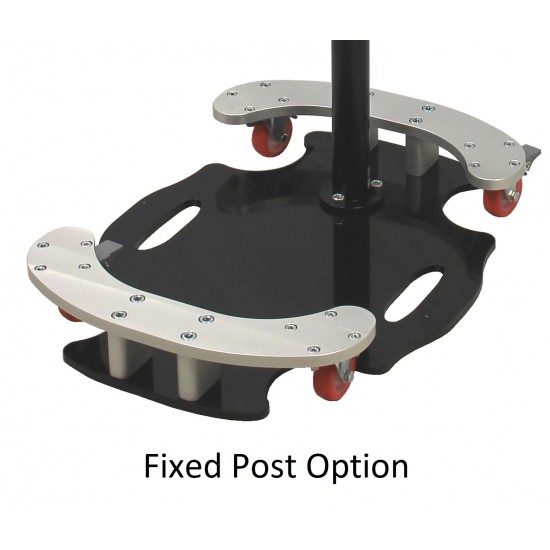 New






Mini Floorstand with Easy Adjust Arm
New version of the Mini Floorstand with an arm that can be easily adjusted without tools. The small footprint base, designed and manufactured by Mounts and More, is low enough and narrow enough to enable it to go under most footrests and between most wheelchair front wheels.
Device Attachment and Adjustment
This model features an easily adjustable arm to position a device within reach of the user. There are 8 different movements for adjustment (in addition to the height adjustment); angling the arm up and down, tilting the device up and down, turning the device left and right, rotating the device clockwise or anticlockwise. The arm ends in either a large or small faced Quick-Release Base for Daessy device adaptors. This arm will support devices weighing up to 4kg. The arm has a restricted turn on top of the post and can be tightened down to prevent the arm swinging.

Small Footprint Base
The base measures 20" long by 15" wide (51cm by 38cm) with a height of 3.125" (8cm) and has been designed to fit under the foot rests and between the wheels of most wheelchairs. This compact base size not only takes up less floor space when in use than traditional floor stands but is also easier to store, with an inbuilt hand hold making it easy to carry with the post removed. With safety in mind, the locking wheels are red and the wheel support brackets have a clear anodised finish for visibility.
Upright Post: Height Adjustment built in, option for Removable Adaptor or Fixed Post
This floor stand includes a Daessy Medium Rolling Mount Post which gives height adjustment from 34.5" to 54.5" (87.5cm to 138cm). With the tube raised to full height and the arm elevated to maximum, the pin in the Quick-Release Base is 137cm above the ground. Fully lowered and angled down the QRB will be 80cm above the ground. The floor stand is supplied as standard with a releasable adaptor for connecting the upright post to the base, this new design enabling the post to be securely attached or removed in a matter of seconds. If the removable adaptor is not required, a fixed post option is available with the upright post bolted to the base.
Carry Bag Available
A carry bag is available for the Mini Floor Stand Base to protect it during transport or in storage. The bag also makes transport easier, particularly useful if the mount will be used in more than one location or taken out for assessments.
Note: Devices shown in the pictures are for illustration only and are not included with the floor stand.

Product Overview
Product Type
Floor Stand
Product Details
Max Weight Support
4.0kg
Height Adjustment
Yes
Device Support
Eyegaze Devices 2.5 - 4.0 kg
Yes
Eyegaze Devices up to 2.5 kg
Yes
Direct Access Devices 2.1 - 4.0 kg
Yes
Tablets / Small Devices 1.6 - 2.0 kg
Yes
Tablets / Small Devices 1.0 - 1.5 kg
Yes
Tablets / Small Devices up to 1.0 kg
Yes
Wireless Switch Access Devices 2.1 - 4.0 kg
Yes
Stock:

In Stock

Model:

MINF-EA