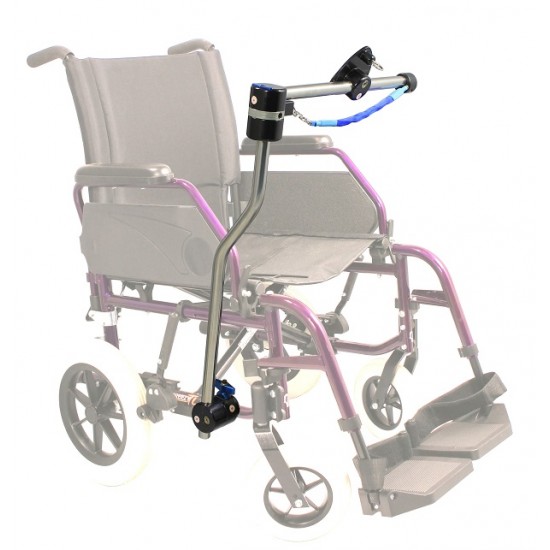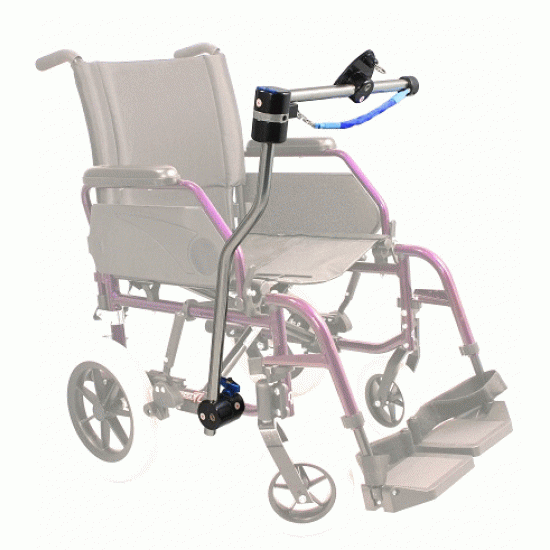 Not for Online Purchase


Swing-Aside Mount
The Swing-Aside Mount enables the user to swing the mount and device away when not needed without needing to rely on care staff by releasing the cable beneath the horizontal tube and pushing the mount away. It rotates at the elbow joint so the horizontal tube and top part of the connector swivel around the vertical tube. The rotate function allows the mount to swing away and lock at 90 deg (pointing forwards) and 270 deg (pointing backwards); the mount has a safety feature that prevents it being able to swing back towards the user.
The Locking Outer Assembly allows the removable mount to be 'locked' into the frame clamp so that it is held securely in position and cannot accidentally swing loose, making it suitable for use on chairs with tilting seat systems
Overview
Ideally suited to users with some independence and able to transfer un-aided – no need to rely on a helper to move the mount away or back again.

Release the cable lock to swing away and lock into a choice of 3 positions.

Can not swing back towards the user when the cable lock is released.

Fits either side of the wheelchair.

Suitable for most standard wheelchairs including Tilt-in Space Wheelchairs.

Quickly removed from the wheelchair.

Suitable for devices up to 8kg.

Not suitable for use with the OSS Opposite Side Support

.



Components*
1x Frame Clamp Inner Piece (To fit specific wheelchair)

1x Offset Link (O3L)

1x Locking Outer Assembly (ROP/RFCR)

1x Upright S-Bent Tube (S24-3 as standard)

1x Rotate joint, Release Cable and 16" horizontal tube (LSARH/TM/16)

1x Quick Release Base (TUSB as standard)
* Components listed above are for standard configuration. Exact components may differ slightly to meet specific requirements.
Wheelchair Information and Custom Requirements
We ask for details of the Wheelchair the mount is intended to be used with in order to ensure that the supplied Frame Clamp is correct for that chair.
If you have any questions, or wish to discuss custom requirements, please don't hesitate to contact us.
Product Overview
Product Type
Wheelchair Mount
Mount Series
Standard Series
Mount Style
Move Aside
Product Details
Max Weight Support
7kg
Frame Clamp Assembly
Lockable
Device Support
Direct Access Devices 4.1 - 7.0 kg
Yes
Direct Access Devices 2.1 - 4.0 kg
Yes
Tablets / Small Devices 1.6 - 2.0 kg
Yes
Wired Switch Access Devices 4.1 - 7.0 kg
Yes
Tablets / Small Devices 1.0 - 1.5 kg
Yes
Wired Switch Access Devices 2.1 - 4.0 kg
Yes
Tablets / Small Devices up to 1.0 kg
Yes
Wireless Switch Access Devices 4.1 - 7.0 kg
Yes
Wireless Switch Access Devices 2.1 - 4.0 kg
Yes
Stock:

Not for Online Purchase

Model:

DSAM4

Daessy